Vintage Jewelry Guide – Part 2: The Victorian & Edwardian Eras
It's been some time since our last blog, as I was swept away by the summer sun & family time for a bit. I hope all of you had the chance to enjoy a bit of these sunny summer days too!
Last time we began discussing vintage jewelry, & specifically, the Georgian Era style of jewelry. So let's move on to the next big eras of vintage jewelry: Victorian & Edwardian.
The Victorian Jewelry
The Victorian era was aptly named, as the varied designs seen within this period followed the varying tastes of Queen Victoria throughout her reign of Britain. Circa 1835 to 1900, this era of jewelry is generally broken down into 3 stylistic periods: the Romantic Period, the Grand Period and the Late or Aesthetic Period.
Romantic Period
"The Romantic Period" was characterized by jewelry given with sentiment or meaning behind it, or jewelry that simply embodied femininity. Pieces with floral motifs or symbolic themes were prevalent. For example, when Queen Victoria married in 1840, she wore a snake motif ring (a symbol of eternal love). Also typical of the time, her ring was set with a green emerald, her birthstone, & created in yellow gold. In addition to yellow gold being the popular choice for metal, colored semi-precious gems set with an open back were the standard among designs.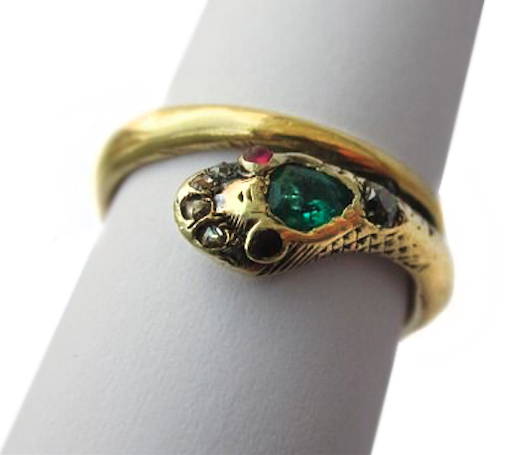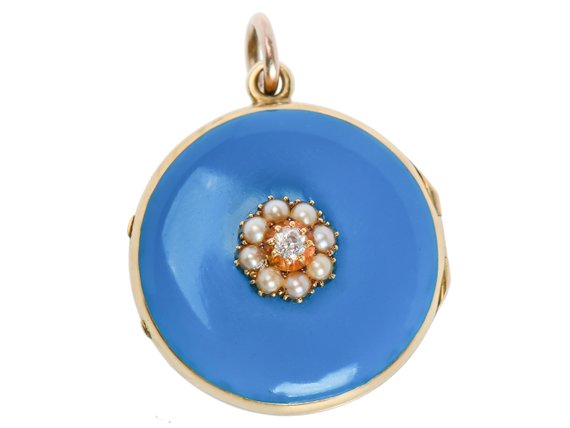 Grand Period
Upon the death of her husband, Albert, Queen Victoria went into a period of mourning & the style of jewelry followed suit. Thus began the "Grand Period", where gold still remained the metal of choice, but designs were darker & more melancholy, often borrowing motifs & themes from ancient, Renaissance or Gothic jewelry. Gold lockets were common, as was jewelry made of jet (a fossilized coal), black onyx, or jewelry made with black enamel details. The technique of casting metal from a mold was revived, often using molds that were copies of actual jewelry relics. These classically themed pieces were often more dramatic & large in nature.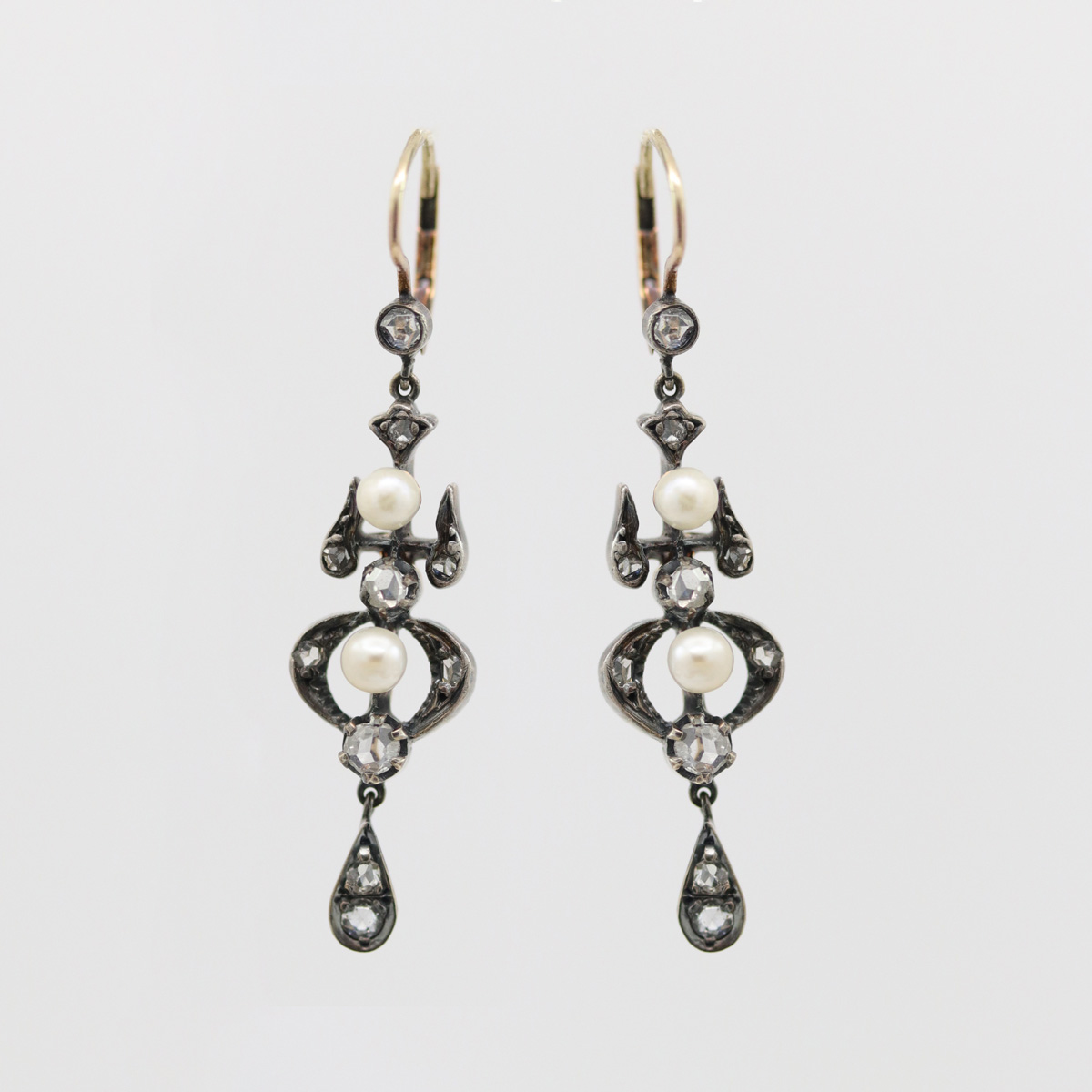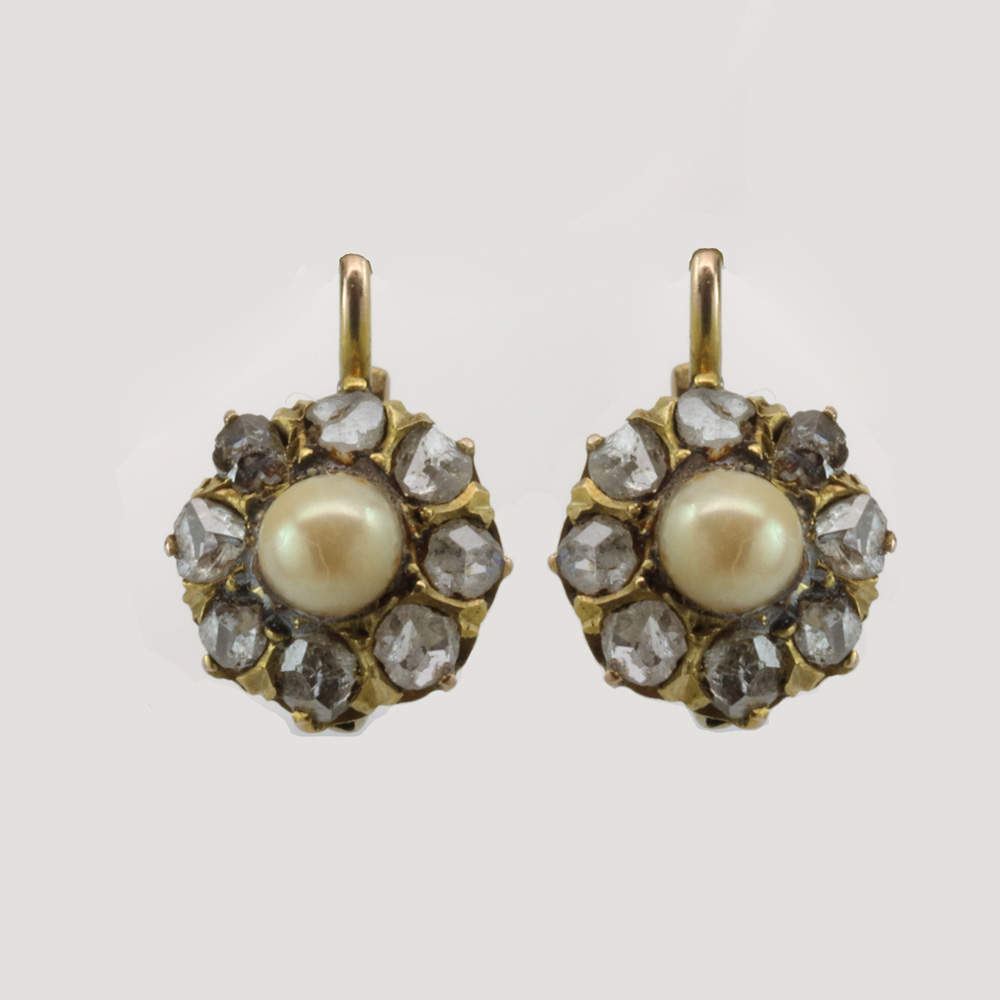 Aesthetic Period
The latter years of the Victorian Era are referred to as the "Aesthetic Period", when Queen Victoria emerged from her mourning & the styles of jewelry reflected the same. The scale of jewelry was suddenly lighter & themes more whimsical. Stars, crescent moons, griffins & reptiles became more common motifs. But the most notable part of this period was the discovery of diamonds in Africa, as this allowed more & more jewelry to be set with diamonds. It's thought that this time is when the diamond engagement ring first made its appearance, an event that forever changed what we think of as bridal jewelry.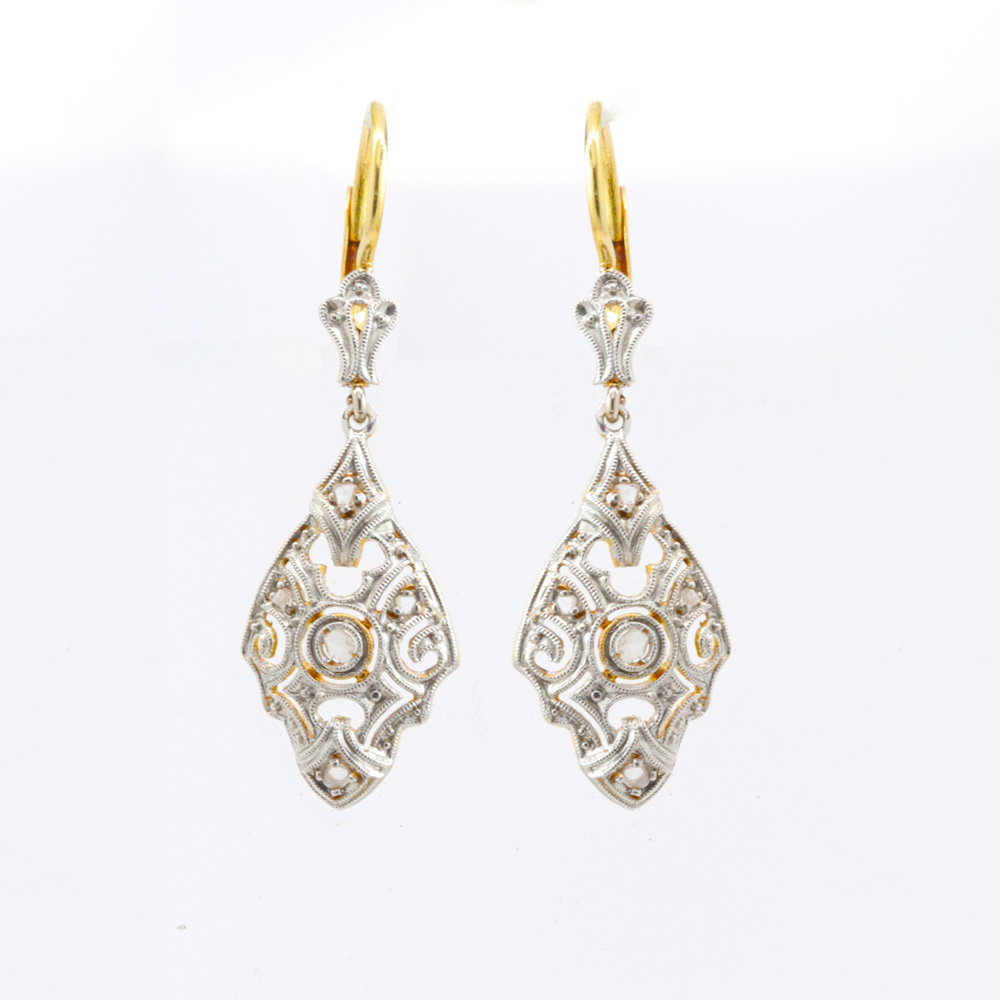 Victorian Scroll Earrings with Diamonds
These beautiful handcrafted in 18k yellow and white gold, pair of vintage earrings from the Victorian era feature intricate scroll work embellished with diamonds. Perfect for a black tie event!
The Edwardian Jewelry
After Queen Victoria's passing in 1901, her son, Edward, took the throne; and with his ascension began the Edwardian Era of jewelry until approximately 1915. Society was at the height of the industrial revolution & pieces reflected that with eloquent craftsmanship & the introduction of platinum use in jewelry. Often the metal was still backed with yellow gold, but platinum was at the forefront & the natural strength of the metal allowed for airy, feminine, "lacy" designs. Filigree wirework was prevalent, as was milgrain embellishment around stones (a 'beaded' edge on the metal).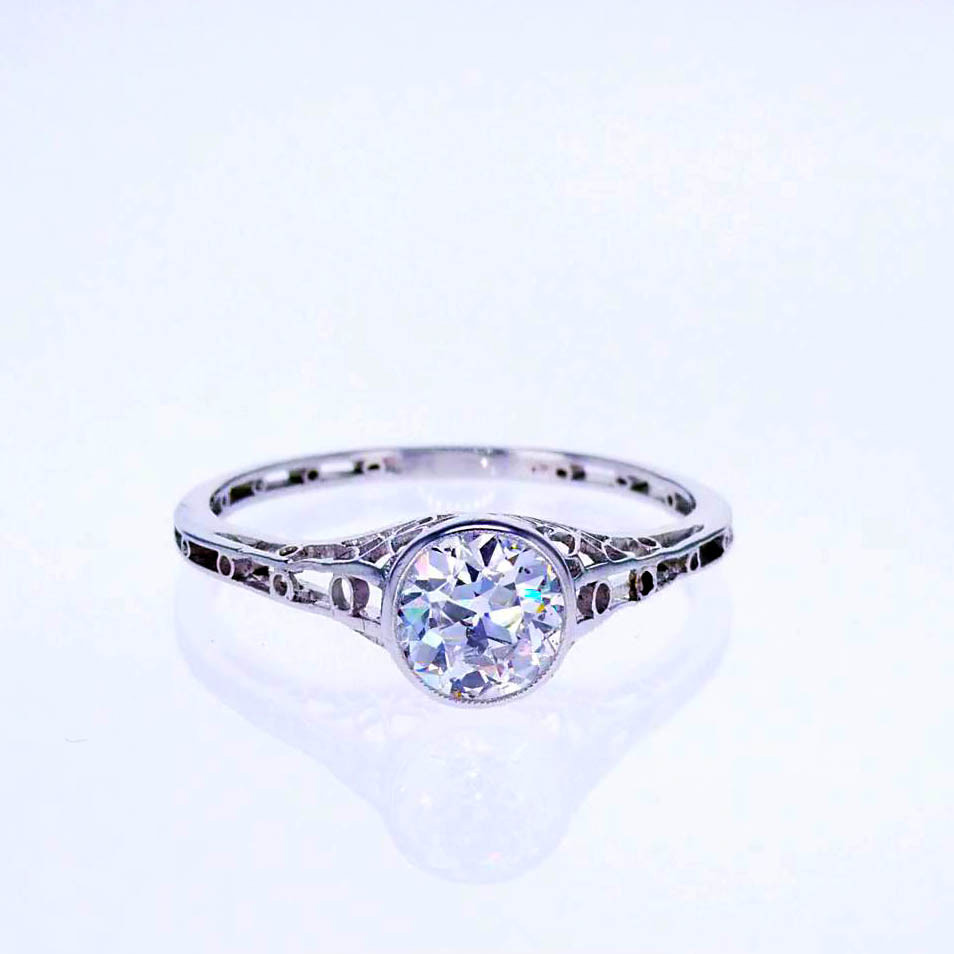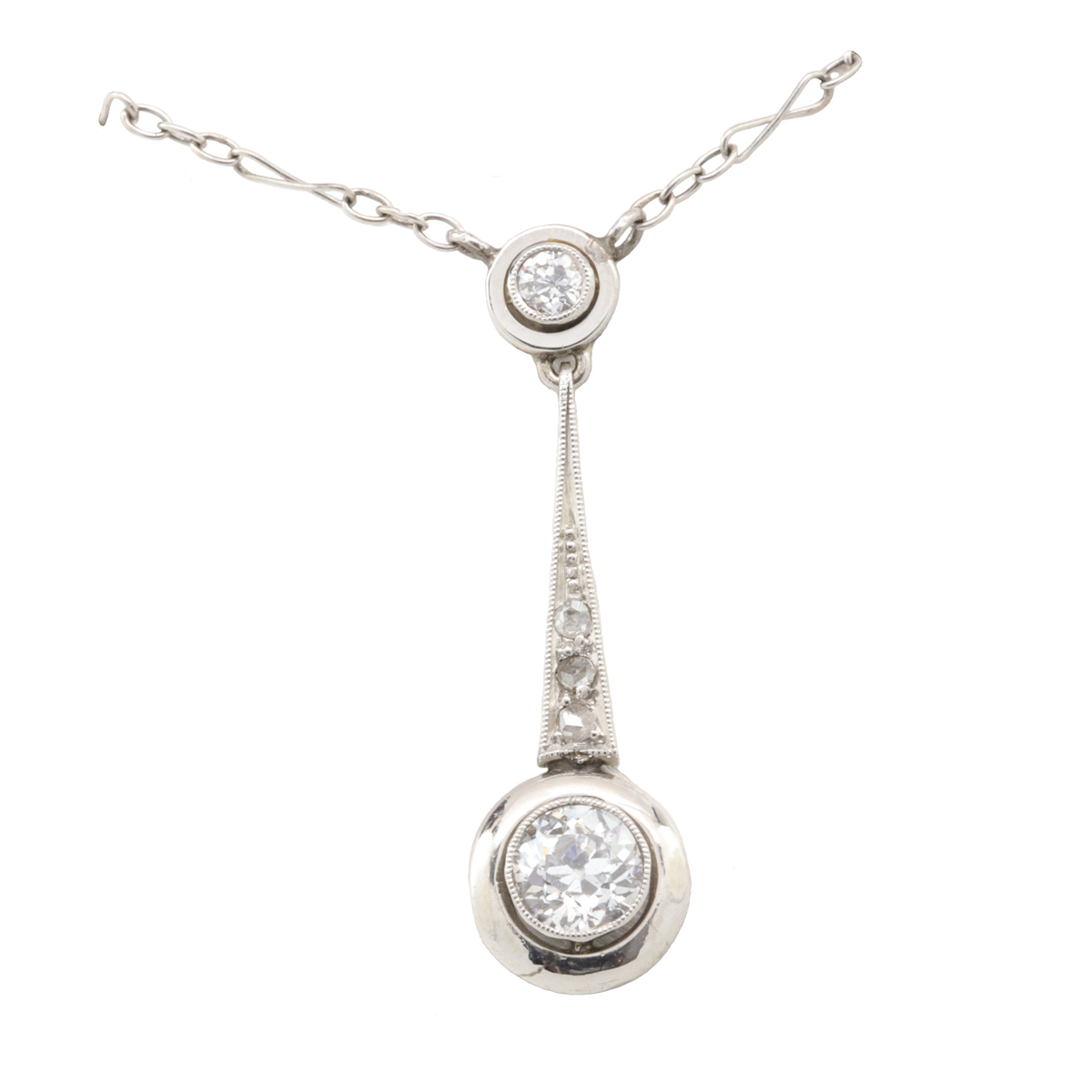 Diamonds were by far the gem of choice for this era, typically bead-set so that very little metal showed over them, & they were implemented in abundance. This all white theme was further showcased by the use of white pearls in designs. Edwardian jewelry embodied sophistication with classical themes, & motifs such as bows, wreaths, flowers & scrolls. In addition to diamonds, precious gemstones such as sapphires, aquamarines & green garnets were sometimes used. This era also saw the emergence of American "royalty" – essentially, the wealthy class who could afford to decorate themselves with the jewelry baubles of the time. By 1914, World War I began, & the light-hearted nature of Edwardian Jewelry came to an end.
Next up on our jewelry adventure are Art Nouveau & Art Deco, two incredibly popular, yet tiny in length of time, eras of vintage jewelry. We hope to see you back here, as well as in our store, very soon!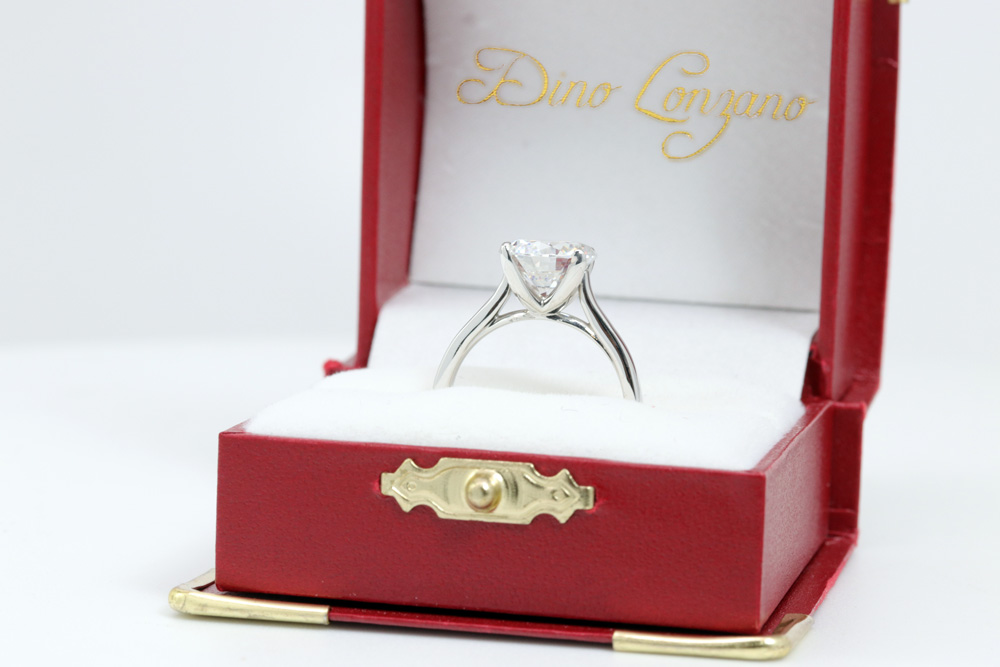 Custom Engagement Rings
Your Concept, our consultation, see it in 3D, together we create a masterpiece