US & Canada Ring Size Guide
This guide uses US and Canada ring sizing standards. Pleas download the document by clicking "Download Ring Size Guide" button at the bottom of this page. The file format of the the Rings Size Guide is PDF. You will need Adobe Acrobat Reader software installed in your computer to view it (Download Adobe Acrobat Reader for Free).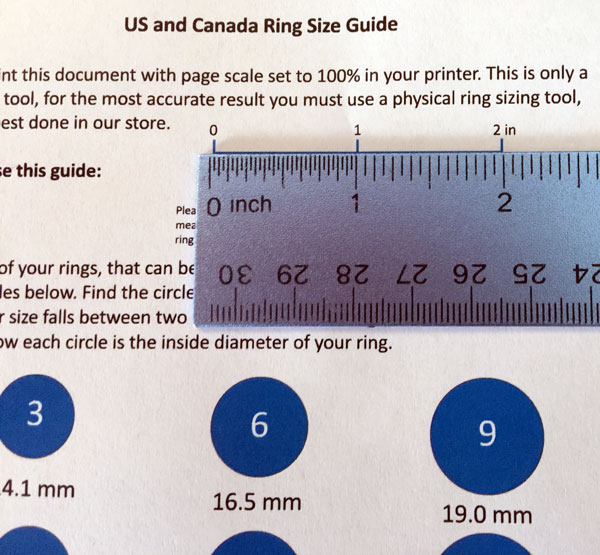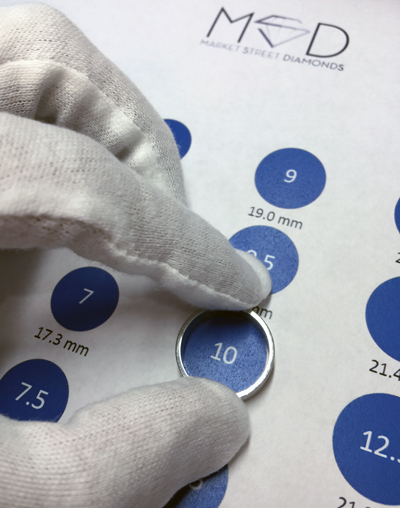 In order to use the Ring Size Guide, you have to print the document with the page scale set to 100% in your printer. If anything other than 100% used for page scaling, this guide will NOT give you accurate results.
In order to make sure you printed Ring Size Guide is at correct scale, please measure the 2 inch /50mm bar shown in the document with a ruler. If the length of the bar is 2 inches / 50 mm , your print is in right scale.
This is only a reference tool, for the most accurate results, we recommend you to use a physical ring sizing tool, which is best done in our store. (Call 202.552.5744 or book an appointment online to speak with a Market Street Diamonds jewelry expert).
How to use this guide
Place one of your rings, that can be worn comfortably (but still has slight resistance), on the circles shown in your Ring Size Guide document.
Find the circle that matches closest to the inside edge of your ring. If your size falls between two circles, choose the larger size. The measurement shown below each circle is the inside diameter of your ring.