The Sapphire Option for your Engagement Ring
Considering a colored gemstone for your engagement ring? You may want to explore the idea of a sapphire. Here's why sapphires rock & why they should be your top choice for your… um… rock.
No matter what color you have your heart set on, sapphires can fill the bill because they naturally come in every color of the rainbow. Blue is the classic color we tend to associate with the word "sapphire", but they can be yellow, pink, purple, red… you name it.
Sapphires on the mineral level are known as corundum. Corundum in red is known as a Ruby (yes, Rubies are simply red sapphires!), while blue, or any other color, is referred to as a Sapphire. While some colors are more readily available than others, they still offer a wide array of beautiful options.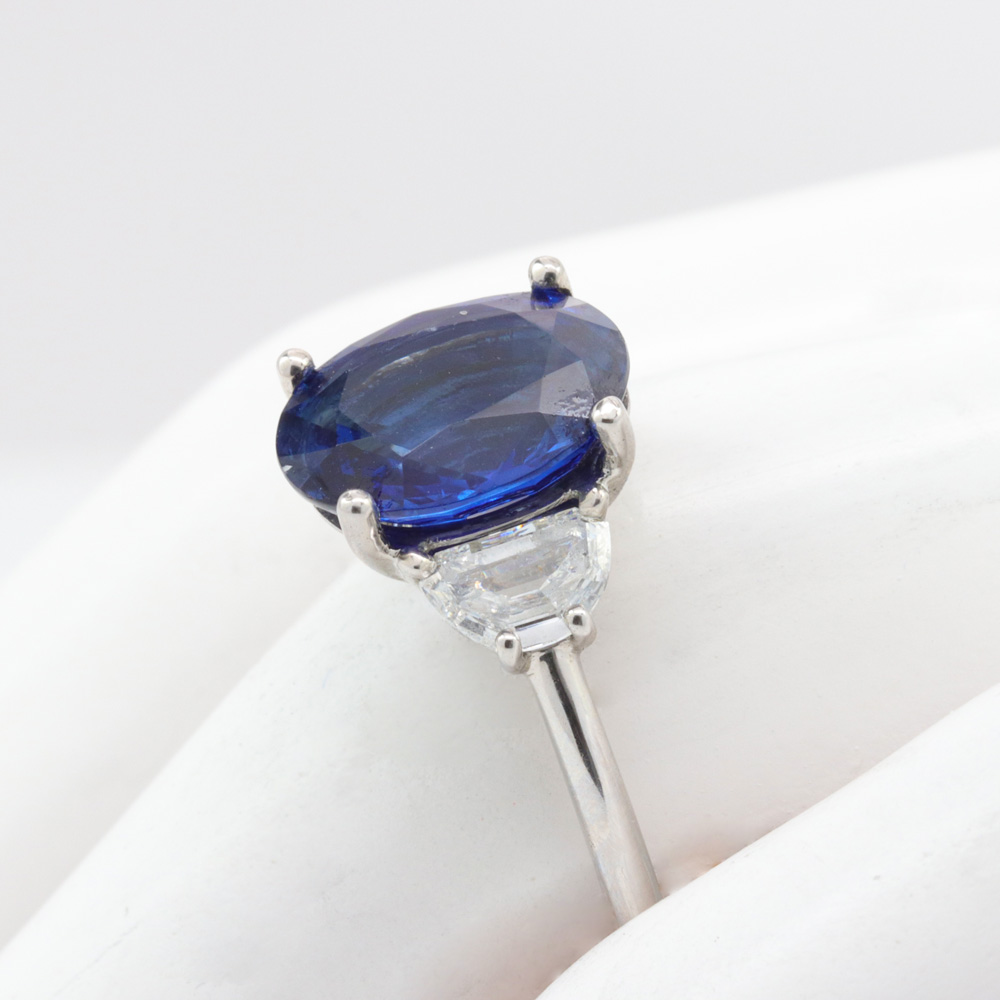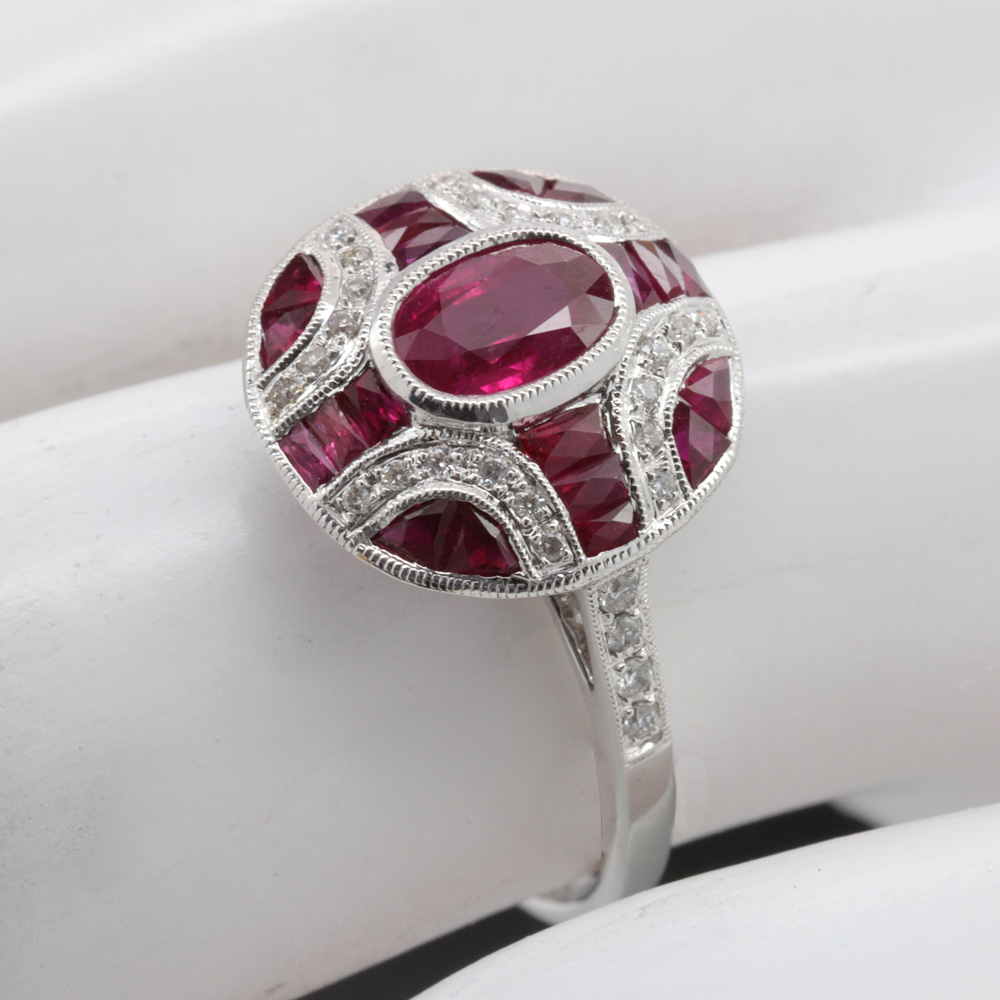 Another huge advantage of Sapphires in an engagement ring is that they have a hardness of 9 on the MOHS hardness scale (10 being the hardest). This means they'll be a durable center stone that can withstand the every day wear & tear that an engagement ring will undoubtedly endure. And if, after many years of wear, some scratches or dullness appear, sapphires are hard enough to be removed from their setting & re-polished, bringing brilliance & life back to the stone.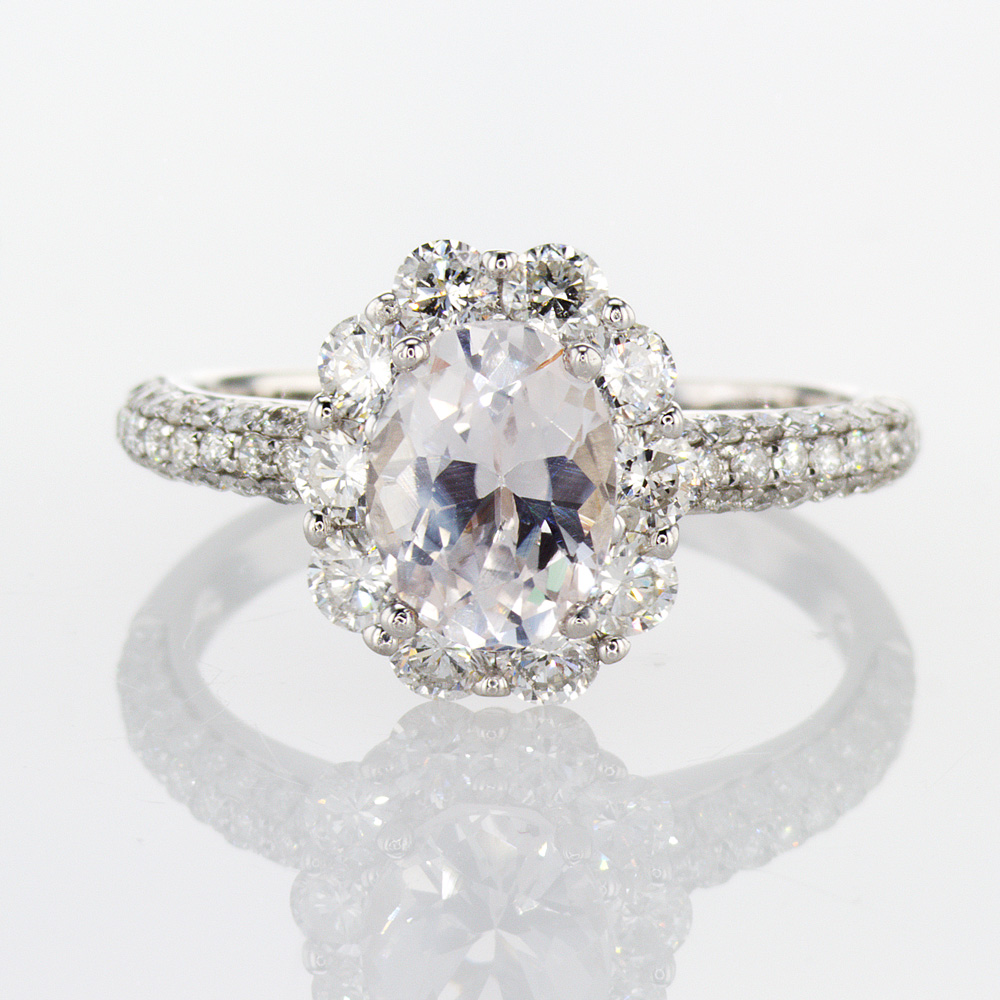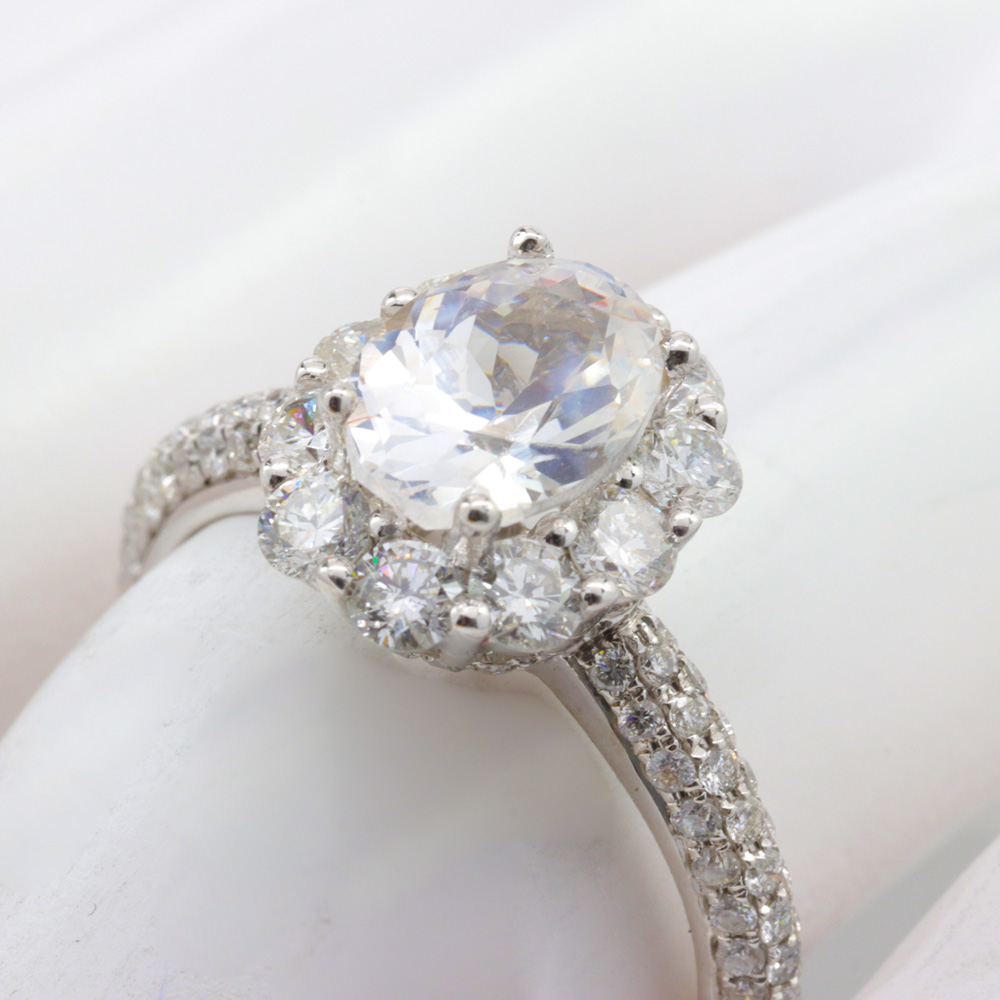 Feel like you love the idea of color, but maybe not as the central stone? No problem! Sapphires can make stunning accent stones to your center diamond. As a three stone style, rich blue sapphires can frame and enhance a beautiful white center diamond. Alternatively, tiny blue or pink sapphires could be pavé set in a 'halo' motif or on the shank of the ring, adding a subtler hint of color to your engagement ring.
Sculptural-Inspired Diamond Engagement Ring
This captivating vintage and sculptural inspired Dino Lonzano custom engagement ring features 1.13ct Cushion Brilliant cut diamond set with enduring hand-drawn wire prongs. The center stone is F in color and has a VS2 in clarity (Click the link to view the GIA report). The handcrafted headpiece and 18k White Gold shank embellished with filigree designs and milgrain edges. Accent stones include fourteen round brilliant diamond melee and four royal blue natural sapphires. The framework connects with the shank via "fleur-de-lis" shapes, on each side. The shank displays "leaf" motif and hand-engraving on all three sides.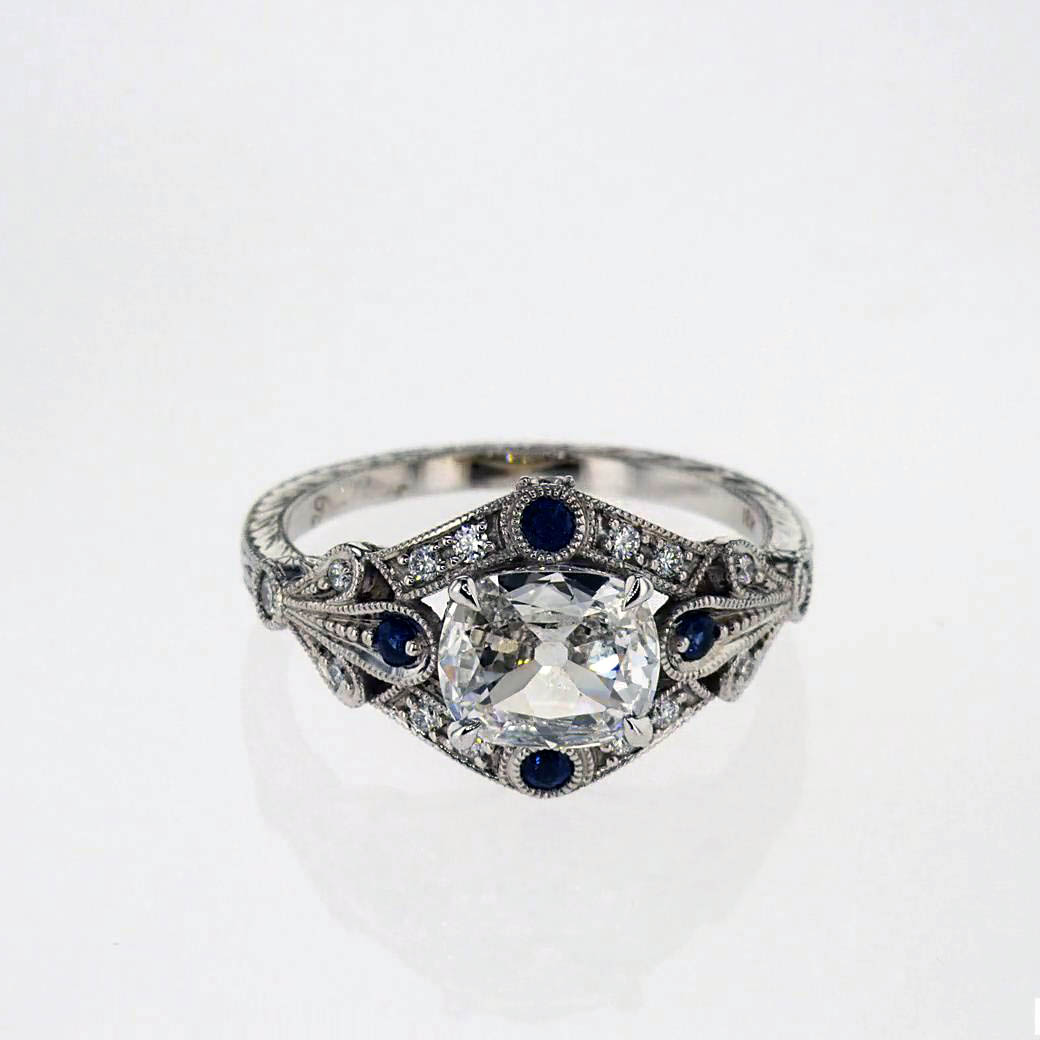 As yet another option, you could implement these stunning gemstones into your wedding band: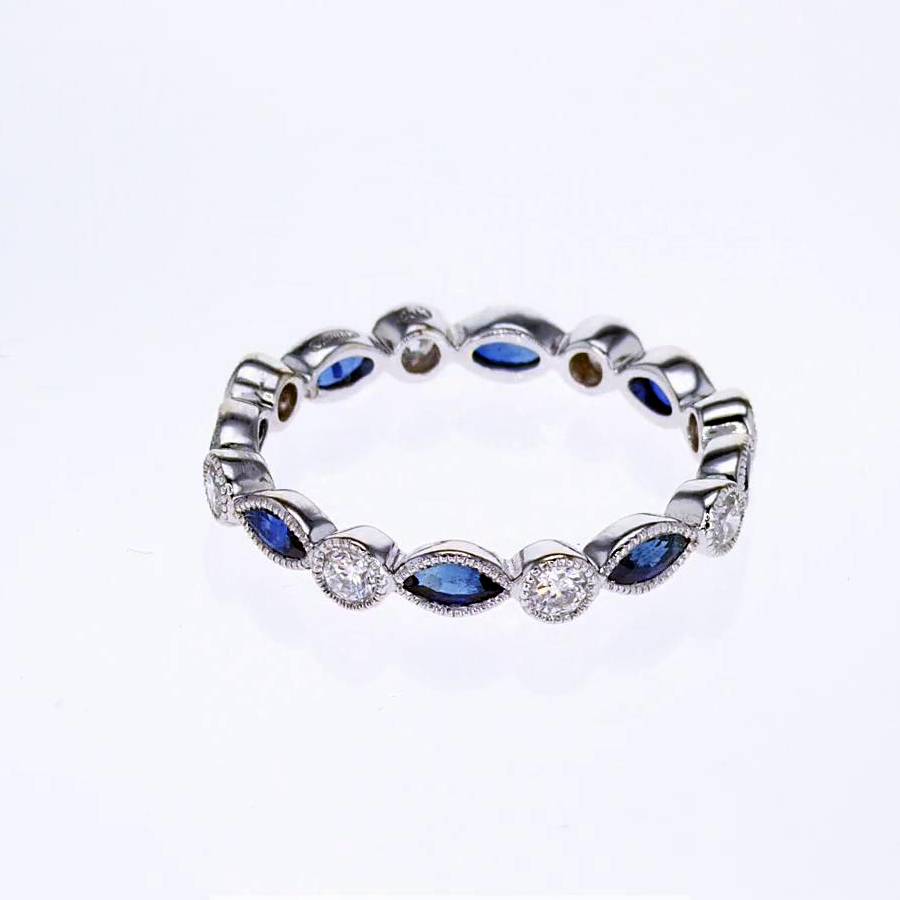 Sapphire & Diamond Eternity Band
TA beautiful representation of your commitment, this exquisite eternity band showcases alternating eight marquise shape natural blue sapphires and eight round brilliant diamonds in a rhythmic design. Handcrafted in 18k White Gold with milgrain edges and holds precious stones in a robust bezel set.
Sapphires sound like a possibility for you? You can learn more about these stunning stones by visiting this page on GIA's website:www.gia.edu/sapphire. So if you're looking for another way to make that special engagement ring uniquely yours, consider a sapphire for your central stone. And bring a little color to your life every day!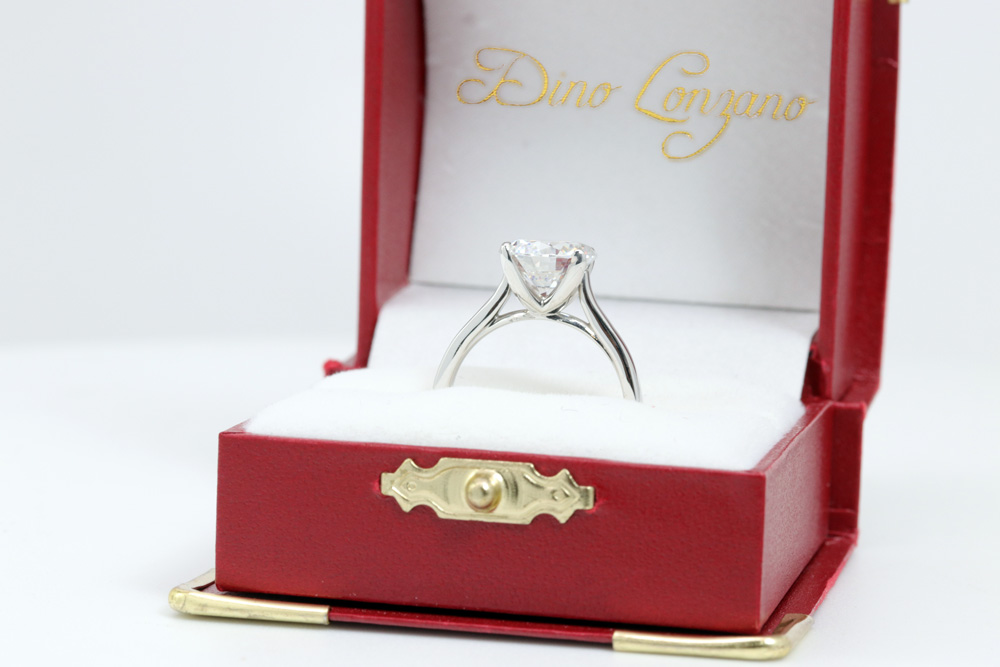 Custom Engagement Rings
Your Concept, our consultation, see it in 3D, together we create a masterpiece